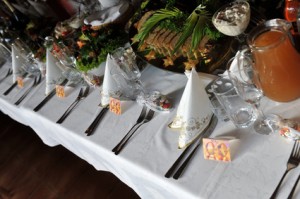 A benefit gala is being hosted this month by a fashion design school in recognition of two major industry players in fashion design, retail, and merchandising.
The Fashion Institute of Technology in New York is hosting their annual gala in honor of the Executive Chairman of The Estee Lauder Companies Inc., William Lauder, and vice-president of Dillard's, Inc., and William Dillard III in the middle of this month.
During the gala students of the fashion design school's packaging program will present new design ideas for one of Estee Lauder's top selling perfumes. Each of the students' designs will be critiqued and judged by a team composed of judges from each of the companies. The winning designer will receive a prize of undisclosed value.
Tickets to the Gala range from $1,00o to $100,000, depending on the guest's desire to be a lone patron of the event or a benefactor for a table for groups of ten individuals. For the price, benefactors will also be rewarded with an advertisement in the dinner journal.
As an added treat, singer Natasha Bedingfield will be on-hand for entertainment at the gala that is considered to be one of the most important events of the year for both the fashion design school and the industry.
The gala will be held at the Cipriani in New York City to honor their leadership in retails where both Williams will be presented with awards by their fathers. Lauder began his career more than 2-decades ago as a marketing director and went on to play an important part in making Clinique a worldwide brand. Dillard started his term at the retail giant 18 years ago working in a regional office, but later moved to China to work on another project before returning to Dillard's.