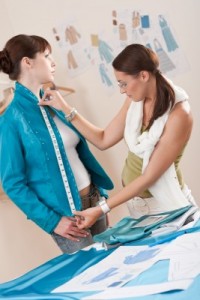 One of the nation's most prolific fashion design schools is in the news again thanks to a staggering statistic about its graduates.
The Fashion Institute of Design & Merchandising recently announced that almost all of their graduates who use their career center find employment within a year of leaving the fashion design school and most of those find jobs within six months.
They also pointed out that this isn't exclusive to any particular specialized degree from their school; it seems to work for all students, regardless of their major. In their news release, FIDM attributes their success ratio to high staff to student percentages and the nearly twenty-thousand jobs posted on their boards each year. Whatever the case, the fashion design school seems to turn out some of the best fashion designers in the industry.
Rebecca Gold, a graduate of the fashion design school went into business designing children's clothing for celebrities known as "Love Jay Girls". Her and her partner, Shana Cutler have already had their clothing line features in Brides and Parenting magazines and have their apparel worn by the like of big name celebrity children such as Tom Cruise's daughter Surie and Angelina Jolie's Zahara.
At the 2010 Grammy Awards, a few of the fashion design school's alumni had their apparel worn on the red carpet by big names such as Kyra Sedgwick from The Closer on TNT. She wasn't the only one at the Grammy's wearing FIDM-born creations. Jenna Ushkowitz from Glee wore Kevan Hall's designs. Hall has created fashions worn by Katherine Heigl, Vanessa Williams, and Tina Fey as well – to name a few.
There are abundant success stories from the fashion design school and plenty of students are hard at work in lesser highlighted positions. Graduates are places with successful fashion design companies following graduation thanks to the help of dedicated faculty members.