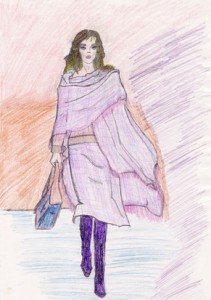 Fashion design school FIDM is taking summer school to a new and exciting level for high school students willing to travel to one of four major U.S. cities this summer.
High school students can attend a 3-day fashion design summer camp with the Fashion Institute of Design & Merchandising at the school's campus located in Irvine, CA; San Diego, CA; San Francisco, CA; or Los Angeles, CA in June.
The fashion design school is hosting the three day events in order to inspire and educate high schools students who are interested in entering a fashion design school in the future. While the college recruitment focus will be on future students of FIDM, even parents can get in on the action with this program.
Students will attend three workshops throughout the events that show them how to create 3-D designs on a form, teach them about design and merchandising for consumer purchases, and how to design and plan for photo shoots and special events. The school is also teaching sketch methods and hosting guest speaking events featuring some of the most successful fashion designers to pass through FIDM's halls over the years.
One notable guest will be Project Runway's Nick Verreos, graduate of FIDM and designers of the NIKOLAKI label.
Parents are invited to attend a special session where they can ask questions and learn all about the program at FIDM. The fee for parents is $40 per person (limit 2) and students can attend one of the events for $250 per student. Limited spots are available according to the fashion design school's website, however. The cost of attendance includes breakfast and lunch each of the three days. Parents are permitted to attend parent only event, including orientation and special workshops. Due to space limitation, only students may attend the fashion design school workshops.