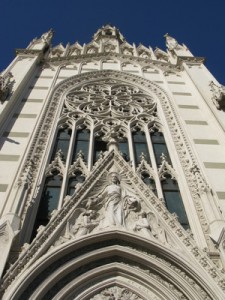 A student in a fashion design college in the United Kingdom blew away the judges at a competition involving over 50,000 competitors.
Charlotte Wood is a student at the Redcar & Cleveland College of Art and Design and was one of just ten finalists who had their fashion designs showcased on the catwalk at a live show in Birmingham.
Fashion design colleges from around the UK presented student entrants into the Clothes Show Young Designer of the Year fashion show. After making it to the finals, Wood had ten days to meet the next challenge presented to all of the fashion design college students: create an A-list worthy red carpet gown. Wood won the competition with a long, gothic type gown.
"I took my inspiration from the forecasted dark trend for autumn/winter, combined with gothic religious architectural design, looking especially at the way light falls through church windows, which is what I wanted to recreate in my fabric," Wood told the Gazette Live, a UK publication.
For her prize, Wood won £1,000 and a short apprenticeship with a top fashion designer.  Another £1,000 will be donated to the fashion design college where she attends classes, making the school a proxy winner.
Wood commented to the Gazette Live that it was great practice for working in fashion design, though "it was a lot of pressure," she said.
The fashion design college at Redcar & Cleveland College is an historic institution that turns out professionals in fashion design and all other forms of art design as well as a multitude of technical, architectural, and health related disciplines. The fashion design college is just one of many programs offered by the school, which was originally created from funding willed to the establishment of a school by William Turner upon his death in 1692.