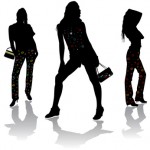 FIDM, the Fashion Institute of Design & Merchandising, is a familiar name among fashion gurus but a recent YouTube event may have made the school even more popular. Students at the school were invited to compete in a special challenge while the internet video company was on site at their school:
(PRWeb) YouTube recently paid a visit to the Los Angeles campus of FIDM/Fashion Institute of Design & Merchandising for a fun-filled Stylist Challenge event. FIDM students were asked to break into teams of three – stylist, model, and videographer – to style an outfit that would be runway ready in just 10 minutes.
The winning team, Creative Captivators, styled by Apparel Industry Management student Anthony Hernandez, won $200 in prizes and a tutorial session with YouTube fashion star Wendy Nguyen of Wendy's Lookbook. Representatives from YouTube mingled on campus for a few hours, along with a DJ and refreshments, to network and answer questions about how to best use the video channel to promote fashion and beauty brands.
"The creativity of the FIDM student population falls perfectly in line with the creative community that already exists on YouTube. We are excited to see how FIDM students utilize the platform to expand their personal brands," explained YouTube Strategist Margaret Gregory.
FIDM's Official YouTube Channel gives fashion fans a behind-the-scenes look at the fashion school. Visitors can watch FIDM DEBUT Runway Shows, go inside classrooms, and find out what being a student at FIDM is really like. There are also helpful how-to and DIY fashion and beauty videos.
FIDM/Fashion Institute of Design & Merchandising is a co-educational, specialized, private college dedicated to educating students for the Fashion, Graphics, Interior Design, and Entertainment industries. Known as a one of the top fashion design schools, FIDM is also a leading graphic design school and digital media college. Visit fidm.edu for more information.
Original Press Release: YouTube and Fashion Blogger Wendy Nguyen Visit FIDM for Stylist Challenge Event
Fashion students showcase collections at Baska