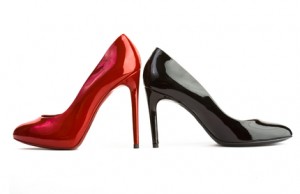 At a fashion design school in Los Angeles, students of fashion design are adding their wishes to a growing wish list around the campus.
Students at the Fashion Institute of Design and Merchandising have been busy with finals and final projects, but recently took a break to tell the world about their most desired Christmas gifts.
Among the students at the fashion design school, one of the more popular choices among a small group of students was Jeffery Campbell shoes. The LA designer's line of heels and platforms and other shoe styles is popular among young women at the school.
A different set of fashion design students, who also chose to make shoes their wish list item, said that TUK was their label of choice. "If you can pull it off, you can wear them with everything," said Jade, a design student.
The style they most liked was a pair of flats with monotone patterns that have a punk-rock feel.  While a friend agreed with her about the TUK label, she revealed that her preferred style was Alexander McQueen ballets, also of the punk-rock variety.
The fashion design college provides advanced courses in design, including footwear, for those who are interested in the discipline. Students in the advanced program for footwear fashion design are afforded the unique opportunity to study abroad in Italian factories, meeting with the executives to get a feel of what the market is after.
Aside from the holiday shoe frenzy, students at the design college revealed that their second most hoped for gift was electronics. Students in the digital design programs at the institute listed items such as drawing tablets, monitors, and speakers. Kindle, the electronic book reader offered by Amazon Books, was an often named item as well.