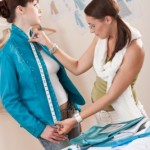 Fashion designers sketch the next big fashion designs, conceptualize new styles, and put together some of the most desired accessories in the world. The life of a fashion designer is riddled with all-night design parties to meet strict deadlines, trend-spotting to stay on top of the game, and intuitively predicting what the hottest styles of the season will be – well before the season even gets here.
Many types of fashion designers are doing well in their industry, but what sets them apart from the competition may be less about college and more about getting into the right sector of their industry. How many types of fashion designers are there? It depends on how you categorize the work.
Sticking to the basics of fashion, there are three types of fashion designers: shoes, apparel (which includes costumes), and accessories. However, step inside of those categories and we see a world where we find many possibilities.
Apparel Fashion Designers
Apparel designers focus their energy on creating styles for every part of the world's population – from main street workers to starlets in Hollywood. Costume designers and mass market experts work within the title of "apparel designer". When it comes to the apparel category, three types of fashion designers exist: Haute couture, prêt-a-porter, and mass market. (Note: There is a fourth type of apparel fashion design – kitsch. Kitsch is out of date fashion worn to 'make a statement'. However, the market is extremely limited for kitsch designs.)
Haute Couture Fashion Designer
Haute couture designers are those that stick to the old rules of design for wealthy clients. These are fashion designers who specialize in creating custom apparel for an individual customer. One person at a time, haute couture fashion designers make custom garments based on the exact measurements of their client.
Prêt-a-porter Fashion Designer
Prêt-a-porter, or 'ready-to-wear', fashion designers focus on apparel for the masses, while reserving some effort to get the perfect cut, material, and presentation for the wearer. These fashion designers aren't creating designs for millions of people. Rather, prêt-a-porter designs are manufactured in limited numbers.
Mass Market Fashion Designer
Mass market fashion designers are creating new styles for the general population. Their items will be mass-produced and sold on the open market. There are no limited editions or custom fitting involved in producing mass-market apparel. By far, mass market apparel is the most popular option among new designers entering the field of fashion.
Shoe Fashion Designers (Footwear Designers)
Footwear designers are in the market to design shoes and foot wear. Within this category, there are many other types of fashion designers as well. These include athletic footwear and formal footwear, and can be categorized the same way as the types of apparel designers.
Fashion Accessory Designer
Fashion accessory designers focus on designing jewelry and other items that are not necessarily considered 'apparel'. These types of fashion designers create necklaces, bracelets, hats, scarves, hand bags, and other items we use to accessorize.