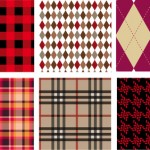 A California fashion design school is taking the stage in trend-setting this spring. The school focuses on materials and prints, teaching students about mixed fabrics and attractive designs. But this year it's doing more. The California School of Professional Fabric design is contributing some ideas from bright students and presenting spring mixed fabric designs for the fashion conscious:
Berkeley, California (PRWEB) April 19, 2012 – Joy Sewing, in an article on Chron.com, highlights the latest in new fashion trends: mixed prints. This trend allows individuals to put together unexpected, creative, and bold outfits in an effort to show off their own aesthetics while taking advantage of the beautiful printed fabrics today's designers have to offer. The California School of Professional Fabric Design is fueling this trend with its wide array of fabrics. From subdued to bright, the prints that come out of the California School of Professional Fabric Design are enabling fashion followers the world over to embrace this fun style.
According to Sewing, "Mixing prints in unusual combinations is one of the season's biggest trends. It's an excuse to throw stripes with polka dots and paisleys with florals and even more of a reason to mix and match global prints to show off a well-traveled fashion sensibility. It's an unexpected, fearless way to dress this season."
Among perpetuators of this trend are fashion icons Donna Karan and Michael Kors. Sewing notes that, to complement the bold fabrics of today's hottest looks, fashion experts are turning to more neutral, more natural accessories. These accessories include bags, jewelry, and shoes that are made from raffia, wood, and even rope.
"Sometimes we need to think outside of the box!" commented Zeida Rothman, founder of the California School of Professional Fabric Design. "Combining contemporary and traditional prints can make a bold and creative statement. Layering tropical patterns with plaids, abstracts with stripes, is loosening old rules of what can or can't go together."
Read the rest of the story about this fashion design school from PRWeb.
More News about Fashion Design Schools:
Mark Henry's School of Fashion
Blue Springs Sophomore Shows Fashion Sense