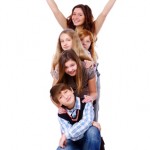 Fashion design schools don't get many opportunities to reach out to young aspiring designers that haven't yet had their 5th grade graduation, but that is exactly what the Future Fashion Designers Academy is doing. In a unique setting, the youngest of fashion designers to be get to go to the academy to learn the basics of fashion and fashion design from school owner Shawnelle Cherry.
The Charlotte Observer does a great job explaining the environment that's inspiring groups of children who may one day grow up to be top fashion designers:
A sketch of actress Audrey Hepburn in her famous "little black dress" dominates the back wall of the Future Fashion Designers Academy at 123 N. Main St.
Sewing stations line one area, while a large table for laying out patterns and cutting fabric fills the room's center.
Costume and fashion designer Shawnelle Cherry's one-of-a-kind clothes drape the dressmaker mannequins in an environment conceived to nurture budding creativity.
No such place existed to inspire Cherry when she was a youngster. She pursued her dream by working in the Los Angeles garment industry and designing gowns for brides and actresses at her studio in Pacific Palisades, Calif.
As Cherry became interested in creating costumes, she branched out into movies. She always "loved working with the kids." After moving to Mooresville, opening a studio for young fashion enthusiasts was a logical step.
Students have "fresh minds." Sometimes, Cherry shares her sketches with them to get their take on an idea… Read the whole story about this fashion design school on the Charlotte Observer's website.
Many industries reach out to youngsters as a way to get them interested in their futures, including graphic design and web design schools. Fashion design "summer camps" are also a popular choice by parents who know their little ones are interested in the concept of fashion. The Future Fashion Designers Academy website is a good place to start if you're in the area, but there are many kid-friendly fashion classes out there.
More News on Fashion Design Schools:
Fashion Show Teaches Students More than Design
Fashion Design School Presents Annual Show