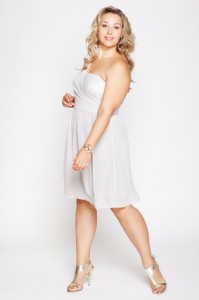 Fashion design schools are notorious for extravagant fashion shows, showcasing their student's latest and greatest designs.
Many fashion design schools require an end-of-term catwalk event for course credits, but few take an off-the-cuff opportunity to do something unique.
As a local television network reported earlier in December, a Nashville, TN fashion design school decided to work on a unique project and give back to needy teens in their community.
Beth Glascock has been collecting prom dresses for needy teenagers for a while now and collected nearly two-thousand in the past couple of years. Glascock is the master mind behind The Fairy Godmother Project, a local non-profit cause that began in 2010 as a group of 5 friends decided to create the organization as a New Year's Resolution.
The project is aimed at offering the area's teens that might otherwise be unable to afford prom wear, the opportunity to shine at their school's formal dance. The Fairy Godmother Project, co-founded by Merideth Cooper, Amy Doyle, Heather Skaar, and Laura Zimmerman turned to the students at the fashion school to help meet their latest challenge.
Plus-size dresses have always been hard to come by for the group and this year was no exception. They simply had too few plus sized dresses in the collection to meet the needs of the community. This is where the students of the fashion design school at O'More College of Design stepped in to fill the need.
In a period of only fifteen hours, senior fashion design student Christa Allison and some other students created new plus-size dresses using some of The Fairy Godmother Project's other formal wear.
"This is a very under-served size group, and it is so great to have a group of young people to create these dresses for them," Laura Zimmerman said according to O'More's blog.