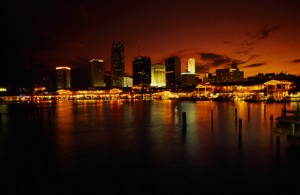 LA-based Fashion Design Schools Boast Star Designers and Style
A fashion design school with four campuses in California is turning out some of the best fashion designers in the country.
The Fashion Institute of Design & Merchandising (FIDM) is famous for being a large institution with some 8,000 students in all, but a select few of them seem to be a cut above the rest.
This fashion design school has served as the launching pad for big design names that became famous after graduation. Monique Lhuiller and Kevan Hall are just two of the FDIM graduates who went on to make the big bucks in fashion design under their own labels.
Los Angeles is no stranger to great fashion design schools. One of the most famous might be the Otis College of Art and Design, which offers a top notch education in fashion with a hefty $35,000 per year tuition, although there are certainly options for the more frugal students in town.
Los Angeles Trade-Technical College offers a full fashion design college curriculum for $36 per credit. It seems that for every taste and budget, LA has a fashion design school that fits. The city is well known for its stars on the big screen produces stars of the runway like Project Runway winner Sweet P and fashion designers Rick Owens and Eduardo Lucero.
It makes sense that LA would have so many fashion design schools, considering fashion is one of the driving forces in their economy. This industry is a major employer in the city and, unlike New York based fashion conglomerates; Los Angeles is known to produce a more casual, laid back style befitting its image.
Not all students want to become superstar designers, however. Many students with a passion for designing great fashion find that their real happiness lies in the details of design. LA fashion design schools produce artists for everything from sewing to patchwork and digital design to manufacturing.