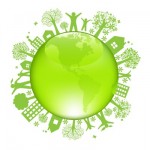 A group of fashion students decided to incorporate some unique designs at a fashion show that was a cooperative event between students and senior citizens, from designing the apparel to modeling it on their 'catwalk'. While the fashion show presented in the story below was all in fun, many fashion design students and some schools are getting serious about environmentally friendly design and outerwear. Schools all over the world are looking to renewable materials and recycling to create some of the most fashion-forward designs we've seen in the industry. As far as the designers in the story below however – fashion design was less serious business and more about the fun factor.
Wausau Daily Herald, WESTON — Local students and seniors celebrated Earth Day with a fashion show that featured clothing and accessories made exclusively from garbage.
The Trash Heap to Chic fashion show was held April 24 at Birchwood Highland Senior Apartments in Weston. Students from D.C. Everest Senior High School and the Idea Charter School, both in Weston, collaborated with members of the Birchwood retirement community to design, create and model more than 40 outfits, all made of recycled or repurposed materials, for the show.
Birchwood director Chris Carne said residents started collecting items in October and began assembling their creations in January, while the students began working on the project in March. The fashions included a pair of shoes made out of milk jugs, electrical tape and tire treads; a pair of garbage bag athletic shorts; and a 1950s-style prom dress made entirely of white plastic bags.
Sally Olbrantz, 81, created a top from silver pull tabs.  "It's very flashy," Olbrantz said…. Read more on this story and view photos of the event here.
More News on Fashion Design Schools:
Students Showcase Style at Fashion Show
FIDM Students Share Summer Trend Advice