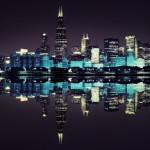 A specialty fashion design school to open soon in Chicago hopes to reverse the trend in production for the city. What was once a booming fashion sector in Chicago is now an empty shell of memories for those that were around when Chicago had its own thriving fashion industry. The Chicago Tribune recently reported on the Apparel Center, once a thriving showroom and now evicting its last tenant, and the valiant effort by the improvement board and a school to save one of the city's oldest fashion centers:
The Chicago Tribune, Chicago's apparel makers have all but disappeared. And the Apparel Center — the city's central showroom for fashion designs for the last 35 years — evicts its last tenants this month.
But on the top floor of a tiny shop at 601 W. Roosevelt Road, two men hope to train a new breed of clothing manufacturers and tailors and bring them together with the city's far-flung designers.
"In one space you can learn the tailoring and sewing business and produce a clothing line, all manufactured in Chicago," Mark Sussman said during an open house in February at the fledgling Chicago Fine Tailoring and Design Institute.
Sussman, 42, and business partner Gidal Vodovoz, 51, say they'll charge $1,800 for multiweek courses to help designers either create a business strategy and a five-sample clothing line or be trained as tailors. The company recently received a $46,000 grant from the Chicago Department of Housing and Economic Development.
The Institute also doubles as production space, to manufacture small clothing lines for designers. In effect, it's an effort to restore a lost industry. Roughly two-thirds of Chicago's apparel manufacturing disappeared during the past decade or so, culminating a decline that began decades ago.
"Until the 1950s, the industry here in Chicago used to be the biggest in the United States… much more on this story at the Chicago Tribune.
More News on Fashion Design Schools:
Baltimore Design School schedules groundbreaking
BOCES Tech Students Accepted at Fashion Institute