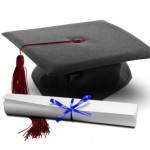 Famous fashion design schools are preparing for graduation as they show off the all new fashion designers entering the big industry this year. Fashion schools at Pratt and Parsons have held much of the spotlight in recent weeks as they prepared and executed their end of the year fashion shows.
This week, it is the Fashion Institute of Technology's turn in the spotlight. Industry publication Fashionista is a well-known magazine to fashion students and industry pros alike. On Monday, Fashionista highlighted the events at FIT, a school that allows students to spend much of their time focused on the aspect of the industry that most interest them:
(Fashionista) May 3rd, 2012 – After Pratt and Parsons celebrated their graduating fashion design students this past week, yesterday was FIT's turn. The alma mater of American design legends like Calvin Klein (who donated a whopping $2 million to the school) and Michael Kors, FIT is graduating about 150 BFA students this year, so watch out, fashion world.
About 80 of them had looks featured in yesterday's student show, which ran the gamut from adorable children's wear and the most intricate knits, to stunning evening gowns and gorgeous lingerie. We're featuring 13 student award-winners here.
FIT is unique in that it lets students concentrate on a specific type of design, such as intimates or knits. Additionally, an appropriate real-world mentor/critic (like Diane von Furstenberg and Josie Natori this year) works with the students to provide constant and invaluable feedback. The results of this close student/critic relationship were evident in the quality of the garments that came down the runway–I was impressed with how sophisticated most of the pieces were. Many of the looks could have integrated seamlessly into any number of runways at New York… read the article at Fashionista.
More Fashion Design School News:
UW School of Human Ecology hosts Fashion Show
Parsons students win online footwear design contest