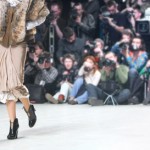 Not all fashion design schools hold an annual fashion week, but most recognize the importance of such an event. There is no better way for students of fashion design to truly understand the intricacies of running a successful show or week than a college fashion week. Students often control all parts of the show – from conception to execution and all of the planning in between – career training that is critical to success in this area of fashion.
Perhaps this is in mind as North Carolina State's fashion design students host their first ever fashion week:
The university has something in common with the world's most fashionable cities this week by hosting its inaugural fashion week. N.C. State Fashion Week (www.ncstatefashionweek.com), which started Wednesday and goes through Friday, is three days of fashion shows, guest speakers and exhibitions.
The event developed as an extension of the curriculum of the university's colleges of textiles and design.
"The idea originated over a year ago because we were implementing a new textile design program," says Nancy Webster, professor in the textile design program and fashion week organizer. "We wanted to showcase our ability to drive the front end of the business with the creative. We are known for the technical and scientific side of textiles and design, and we wanted to show our capacity for the creative and business side, as well."
The event kicked off on with the "Avant Garde" show, featuring radical designs by students from N.C. State, as well as those from partner schools: the Fashion Institute of Technology of New York, China's Donghua University and Hong Kong Polytechnic University. A concluding show, with the theme "Color Fusion," will close the event at 7:30 p.m. Friday.
Student designers submitted their looks for jury deliberation. The pressure of knowing their pieces would be judged inspired the students to flex their creative muscles and produce designs worthy of runway attention.
"The caliber of work that the students produced this semester was exceptional," says Monica Matthai, a senior in the N.C. State fashion and textile management program. "I think having an event such as Fashion Week pushes students to design… read more.
Read the rest of the story from NewsObserver.com
More Reading:
NCSU Fashion Week 2012 Home Page