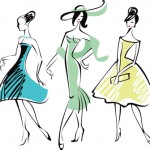 A famous American fashion design school is in the news again for one alumna's work in the fashion design industry. Soyon An, fashion consultant for American Idol, is a graduate of the Fashion Institute of Design & Merchandising (FIDM) and lends much of her success to the education she received during her years at the school:
Los Angeles, CA (PRWEB) April 11, 2012
American Idol style consultant Soyon An, who won an Emmy Award for her work on So You Think You Can Dance, credits her college FIDM with launching her career as a Celebrity Stylist.
Costume designer, stylist, and design consultant Soyon An wears a lot of hats – all of them fashionable. The former Emmy Award-winning costume designer for So You Think You Can Dance is currently the style consultant for American Idol. She recently appeared on camera in a segment with designer Tommy Hilfiger where they update the current contestant's style.
"If it's a soft song, I opt for clothes that have more flow," she has explained of her process dressing singers and dancers alike. "The faster the song is, the tighter the clothes will get." An says she tries to stay away from using black, but when she does, she uses a lot of Swarovski crystals to make pieces pop.
As for a career in fashion, An knew from an early age that she wanted to work in this exciting industry. "I think it just happened naturally, the decision came with the opportunity and that is what I wanted to do," she told Seventeen magazine. "When I was a senior in high school I applied to a bunch of design schools and started taking fashion courses. From there I went to FIDM to get on a little bit of a faster route (I'm a slight overachiever) and that got me into the world of celebrity styling."
Read the press release on PRWeb here.
Read more fashion design school news about FIDM:
Students from Fashion School FIDM Visit Major Denim Brands 7 for All Mankind and GUESS While Studying Product Development
FIDM looks at clothes worn on the doomed Titanic