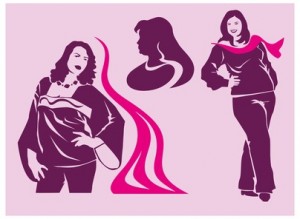 Fashion design school can be an expensive education option, especially if the student is vying for a spot among the nation's top fashion design institutions.
However, one new scholarship fund is making it easier for students to afford that top-line education through a special organization aimed at helping plus-sized fashion designs enter into the marketplace.
The National Association for Advance Fat Acceptance (or NAAFA for short) is offering its third scholarship to students attending fashion design schools around the country. The $1,0000 scholarships is available to students who are already enrolled in a fashion design program and encourages students to specialize in designing clothing and apparel for plus-sized consumers.
NAAFA organized in the late 60's as a non-profit organization focused on the civil rights of plus-sized individuals in an effort to improve quality of life. The organization works to end discrimination against individuals based on their size and provides their clients with empowerment skills by educating the public, running advocacy campaigns, and supporting their members.
The 2012 National NAAFA Convention Fashion Show will take place in San Francisco on August 4th and the winner will be announced to the conference at that time.  The conference will also kick-off with a party for the members attending the conference, offer games and community building activities, cocktail parties, and a pool party Thursday and Friday. On Saturday, members will get down to business with six workshops, then attend the fashion show at 7 PM. The show is set to exhibit the latest plus-size fashion from top designers and features an auction to benefit NAAFA.
Students must be enrolled in an accredited fashion design school to qualify for the application, but all students are eligible so anyone in a school can apply. In addition to earning the scholarship reward, the winning student will participate in the national convention in August.