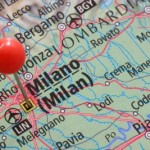 As fashion design students are graduating and heading out into the big world of fashion, some students will look back on their college years as the best times of their lives. One group of students at FIDM will most certainly remember their final year at the design school, thanks to a unique mentoring program from The Cherokee Group.
PRWEB – Thirteen talented students from the International Manufacturing & Product Development Program at FIDM/Fashion Institute of Design & Merchandising just finished a school year they will never forget. Throughout the nine-month program, the American lifestyle brand The Cherokee Group mentored the students, who were challenged to develop a clothing line for Cherokee Fall 2012 that was geared toward a French customer. Each year, FIDM's IMPD program chooses an Industry Partner to work closely with students as they learn to create a cohesive product line. Past partners have included Bisou Bisou, Sunrise Brands, and VF Corporation, owner of Wrangler and Lee jeans.
"You really do learn everything from concept to consumer, and working with a mentor really puts what you are learning into practice," explains Bernadette Lansing, a recent graduate of the IMPD Program. "I designed bottoms and outerwear for the Cherokee Tween Girl, ages 5-14. Some of my pieces included denim jeans, corduroy pants, cable knit capes, and jean jackets."
Their studies took the talented group around the globe, to Paris, Milan, and Hong Kong, where they learned about importing and exporting, international merchandising, global marketing, international sourcing, and production. "I learned more about manufacturers and was able to contact suppliers in China and negotiate prices, while in Los Angeles," adds new graduate Nicole Guerboian.
"Our goal was to provide a challenging, yet supportive environment," says Cherokee President & COO Howard Siegel. "The students did a great job. Their presentations were sensational, exceeding all expectations. This program is world class." The unforgettable experience concluded with a final presentation in front of more than 350 people, including industry professionals, FIDM Faculty, family, and friends. Read the full press release at PRWEB.
More Fashion Design School News:
PPR & Parsons fashion school tie up for design competition
Rahway High School students raise $700 at benefit fashion show